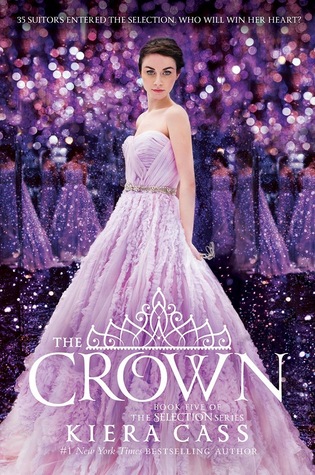 Title: The Crown
Author: Kiera Cass
Series: The Selection #5 (Final!)
Published: May 3, 2016
Read: May 14, 2016
Source: Purchased copy
Rating: 3 stars
When Eadlyn became the first princess of Illéa to hold her own Selection, she didn't think she would fall in love with any of her thirty-five suitors. She spent the first few weeks of the competition counting down the days until she could send them all home. But as events at the palace force Eadlyn even further into the spotlight, she realizes that she might not be content remaining alone.
Eadlyn still isn't sure she'll find the fairytale ending her parents did twenty years ago. But sometimes the heart has a way of surprising you…and soon Eadlyn must make a choice that feels more impossible—and more important—than she ever imagined.
I wanted to love this. I wanted to love it so much. I read The Selection right when it came out and fell in love with America and Maxon. When it was announced that Kiera Cass would be continuing the series with The Heir, I was equally excited. I know there was some debate about Eadlyn, but I loved her! I was so ready to get the conclusion of her story in The Crown.
But, I was sadly disappointed by this finale. It moved so fast, and I felt like things kept coming up that didn't really have any basis from earlier in the book or the series. I thought they were great plot points, but they just didn't feel grounded in the world.
Then the boys. I wanted so much more. With so many leaving early in The Heir, I thought we would get to know the ones left a lot more, but I still felt like there just wasn't enough by the end.
After The Heir, we know that Eadlyn needs to make a decision about a husband quickly, and we all assume it will happen but the lead up to the end of the book just flew and, again, I felt like things happened that I wanted a ton more on.
Overall, I enjoyed the actual outcome of the book and I love the series still, which is why it gets 3 stars.
I really hope Kiera Cass will come out with some more novellas for this world. I'd love to see Ahren and Camille! Or what about the boys? We know what happened to some of the most popular girls that didn't make the cut from Maxon's selection and I'd love to get some of the same this time around.
Even though it wasn't my favorite from the series, I'd still recommend The Crown and The Selection series for you all to read!
Until next time,
Follow my blog with Bloglovin